Dans le cadre du Festival d'Automne à Paris et des Japonismes 2018, Kurô Tanino présente au T2G de Gennevilliers plusieurs de ses pièces. The Dark Master, la première, jouée du 20 au 24 septembre, est une plongée olfactive dans un monde entre réalité et imaginaire.
The Dark Master : omelette au riz et manipulation
Adaptée d'une histoire originale de Marei Karibu et de l'oeuvre de Haruki Izumi ( éd. Terbrain,Inc), la pièce de Kurô Tanino met en scène les relations inattendues entre un étudiant de passage et un cuisinier fatigué. Le chef désabusé mais talentueux, tient un bar dans la région d'Osaka dans lequel il propose, pour de rares clients, des plats délicieux.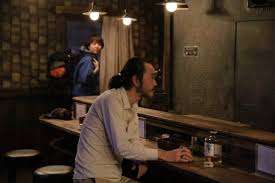 Celui-ci profite de l'arrivée de l'étudiant désœuvré pour lui confier les rênes de son établissement et s'éclipser à l'étage. Le spectateur ne le verra plus, n'entendra plus sa voix. Il lira les échanges du Maître et de l'élève sur les deux panneaux placés à cour et à jardin. Seul sur scène, le disciple, guidé par un émetteur miniature profondément enfoncé dans son oreille, obéit au ordres du « dark master », reproduit ses gestes et finit par acquérir la dextérité du chef. Il parvient à « maîtriser » l'omelette au riz fondante mais ne maîtrise plus sa vie. Jouet d'un homme qui le manipule dans l'ombre, l'étudiant se fond dans la peau qu'on lui impose.
matières et disparitions
La réussite de Kurô Tanino est de faire exister, dans le même espace confiné, la matière et la disparition. Comme un entre-deux déroutant entre réalité et imaginaire. Sur le plateau, le bar, la cuisine, les réchauds, le frigidaire, la fontaine à eau, les toilettes, le lavabo, chaque objet et ustensile, de la poêle usagée au petit savon usé, tout existe par sa forte matérialité et pèse sur la scène et le regard.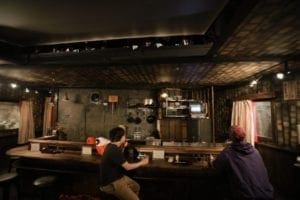 L'empreinte du réel est accentuée par la cuisine que réalise en direct le disciple (Koichiro F.O. Pereira) et par la caméra qui projette, parfois, sur un écran supérieur les images des gestes culinaires qui s'accomplissent. Les odeurs, oignons frits, légumes poêlés, sauce flambée, inscrivent la scène dans un quotidien puissant presque palpable. 
Pourtant, dans le même temps, la disparition est travaillée et revendiquée comme un écart entre ce qui est vécu et ce qui est ou serait. Le « dark master » disparaît du plateau au point qu'on peut se prendre à s'interroger sur la santé mentale de l'élève qui sollicite son aide en parlant aux murs. Le disciple oeuvre derrière le comptoir, on ne voit pas tout. Des scènes sont cachées aux spectateur. Dans la dernière, l'élève n'est plus visible et le temps est dilaté volontairement. Nous est impartie, alors, la nécessité d'imaginer et de faire avec ce qui nous est imposé. En ce sens, Kurô Tanino, le metteur en scène, est le » dark master » qui manipule.
Racisme et économie de l'histoire ?
Le seul bémol porte sur le traitement du personnage du Chinois, forcément voleur de « savoir-faire », pilleur de terrains et de techniques fussent-elles ancestrales, un personnage caricatural, fourbe et violent. Le ressentiment face cet étranger qui « mange », achète et détruit les biens japonais est patent. On aurait aimé plus de mesure. Le propos outré dessert l'ensemble.
De plus, les références à « 1939 », à travers le millésime de l'alcool « qui a un goût de sang » qui enivre le maître puis l'élève, mettent mal à l'aise. Que faut-il y lire? On ne peut pas faire l'économie de l'Histoire pour défendre une économie qu'on juge en danger. Le « dark master » dit que « c'est la guerre » mais c'est un peu vite oublier que « 1939 » évoque avant tout les exactions japonaises perpétuées en Chine; le massacre de Nankin en 1937 et ceux qui suivirent sont encore dans les mémoires. Si la pièce invite à se méfier des « lavages de cerveaux » comme le dit Kunô Tanino, alors, soyons vigilants jusqu'au bout.
« Japonismes 2018 : les âmes en résonance »
Et déplaçons plutôt le regard sur ce qui rapproche et élève. L'année 2018 marque le 160e anniversaire des relations diplomatiques entre le Japon et la France, ainsi que le 150e anniversaire du début de l'ère Meiji lorsque le pays s'ouvrit à l'Occident. « Japonismes 2018 : les âmes en résonance », le titre de la manifestation, fait ainsi référence au premier engouement des artistes français pour cette culture, notamment chez les peintres au XIXe siècle, notamment les Impressionnistes, influencés par les estampes japonaises. Monet ou même Van Gogh furent séduits par cette belle technique.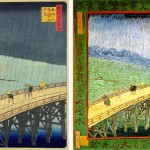 FESTIVAL D'AUTOMNE À PARIS
JAPONISMES 2018
avec Susumu Ogata, Koichiro F.O. Pereira, Masato Nomura, Hatsune Sakai, Kazuya Inoue, Kazuki Sugita
https://www.festival-automne.com/
https://www.theatre2gennevilliers.com/la-saison-18-19/