Dom Juan de Molière : un Jim Morrison addicted aux femmes et à la cocaïne ?  Sa fuite : un road-movie ? Oui. Dans la mise en scène vitaminée que Jean-Charles Raymond reprend au Théâtre du Chêne noir pour le 20e anniversaire de  la compagnie La Naïve. 
Un Dom Juan vitaminé.
Rythmé par la musique des Doors, le groupe mythique de rock des seventies, le Dom Juan de Jean-Charles Raymond propulse le personnage de Molière dans un univers où sexe et cocaïne s'affichent. Dès la première scène, le libertin devient un sex-symbol. Semblable à l'iconique Jim Morrisson, il arbore une chevelure féline, une chemise ample, un pantalon en cuir avec un large ceinturon et une veste en fourrure. Des femmes alanguies sur un canapé central se réveillent à peine d'une nuit d'excès.
Menée tambour battant par Charles-Eric Petit ( Dom Juan) et Hervé Pezière (Sganarelle), l'adaptation de Jean-Charles Raymond s'inscrit pleinement dans une cohérence avec le modèle du XVIIe siècle. Entre le Dom Juan classique, le rebelle, l'irrévérencieux, celui qui se joue de la morale et du ciel et le chanteur  de « Riders on the storm » qui prône l'amour libre, l'usage de la drogue, de l'alcool et le rejet de la morale puritaine, la frontière est ténue. Le metteur en scène travaille l'analogie tout en respectant parfaitement les vers de Molière. Jusqu'à la scène finale où le libertin meurt tragiquement comme Jim Morrison dans sa baignoire.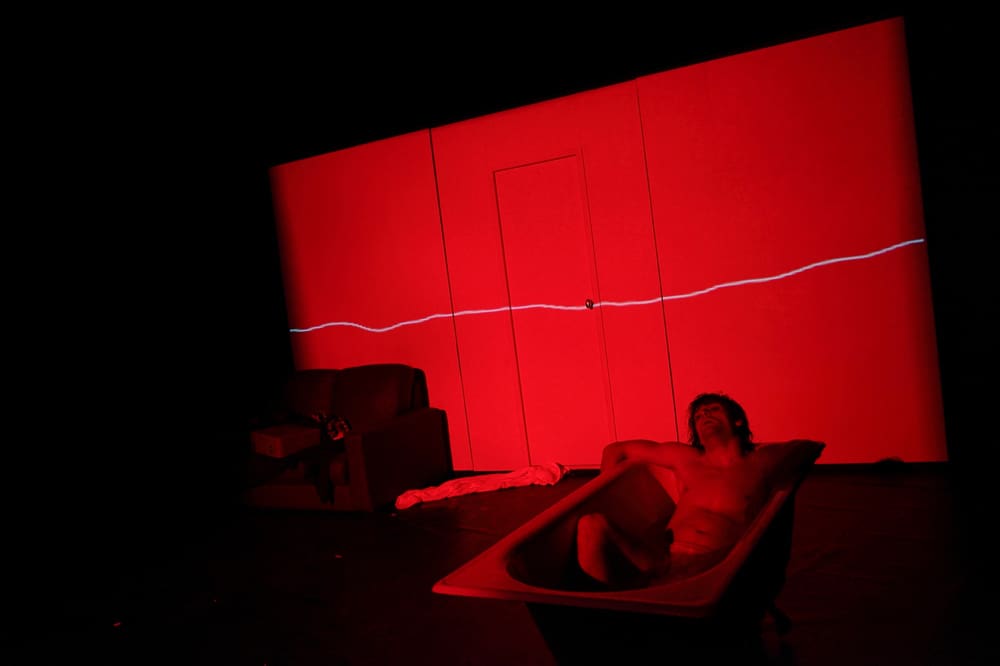 On the road 
Des coupes ont été faites. Notamment, toutes les scènes évoquant la thématiques de l'argent ainsi que les dernières répliques culte de Sganarelle « Mes gages! mes gages! mes gages!  » sur lesquelles se termine Dom Juan ou le Festin de pierre. La pièce de Molière ainsi adaptée ne manquera pas de séduire un public jeune que les cinq actes peuvent rebuter. D'autant que la fuite du libertin est traitée comme un road-movie avec pour décor un univers « dérobé au cinéma de Kubrick, Gilliam, Scorsese ou Coppola ». Dom Juan, tout entier engagé dans une fuite en avant, part sur les routes avec Sganarelle avant de se dissoudre dans ses excès.
Plaisant, enlevé, porté par un duo de comédiens épatants (Charles-Eric Petit et Hervé Pezière), le Dom Juan de La Cie La Naïve éclaire le mythique personnage de Molière d'un jour résolument moderne et réjouissant. A Voir !  
---
Théâtre du Chêne noir à 12h30
Texte Molière
Adaptation & Mise en Scène Jean-Charles RAYMOND
Musique The Doors
Avec Bruno BONOMO, Patrick HENRY, Sophie CLARET, Hervé PEZIERE, Charles-Eric PETIT, Marie SALEMI, Eve PEREUR
Décors & Vidéo Loïk POUPINAÏS         Lumières Valérie FOURY
Costumes Isabelle CHRISTON
---
Sélection #OFF19 M La Scène : Lire une autre critique théâtrale de M La Scène
---